Smart Thermostat Installation & Service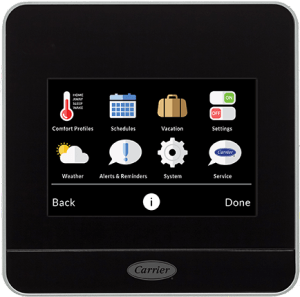 Smart thermostats are the latest in HVAC system controls that assure maximum management over not only your indoor temperature and humidity levels, but control over how much you are spending to effectively cool and heat your indoor spaces.
At Allison Air Conditioning, we are the area's top purveyors of smart thermostat systems and can handle the installation, programming, calibration and service of the top brands and models of smart thermostats on the market today.
ecobee SmartThermostats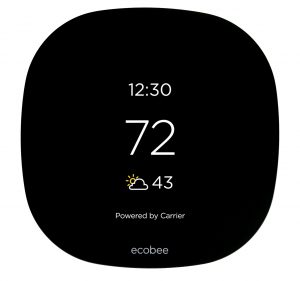 With the ability to save your home or business up to 23% on annual heating and cooling costs, the innovative ecobee SmartThermostat gives you the ability to enjoy whole- home comfort while managing and fine-tuning your energy expenditures. This ENERGY STAR® certified thermostat helps you to maximize energy savings by adjusting for indoor humidity, time-of-use energy prices and local demand. It can be controlled from anywhere on iOS and Android, and includes Alexa built-in.
The ecobee SmartThermostat comes with a wireless ecobee SmartSensor for enhanced comfort and energy savings when you're away. SmartSensor works to deliver comfort where it counts and help manage hot or cold spots. Features include occupancy detection, prioritized comfort in important rooms and temperature balancing. The SmartSensor effortlessly connects to the ecobee SmartThermostat.
Wi-Fi Control of Your HVAC System
Through Apple & Android Devices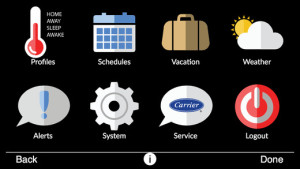 Our smart thermostat options bring our customers the latest in whole-home comfort control. You get the ability to control and monitor your indoor heating and cooling systems via Wi-fi, using your Apple or Android devices including smartphones and tablets. Key features include:
Battery-free technology
Fully guided setup & installation
Window protection that reduces frost & fog on windows
Wi-fi remote access
Large, full-touch screen interface
Auto-changeover between heating & cooling
Compatibility with three-zone panel systems
Carrier® HVAC System Installations & Replacements With Smart Thermostats
If you are considering replacing your older heating or air conditioning system or are thinking of upgrading to a brand-new energy-saving HVAC system, now is the best time to consider installing a smart thermostat to accompany your new HVAC system. We can assist you with the installation of your heating or cooling system and install a new smart thermostat for maximum control of your indoor air comfort, indoor air quality, and heating and cooling energy expenses.
Our full line of Carrier® heating and cooling products are easily compatible with the ecobee SmartThermostat and most major models of smart thermostats on the market today. See Our Full Line of Carrier Compatible Products HERE >>